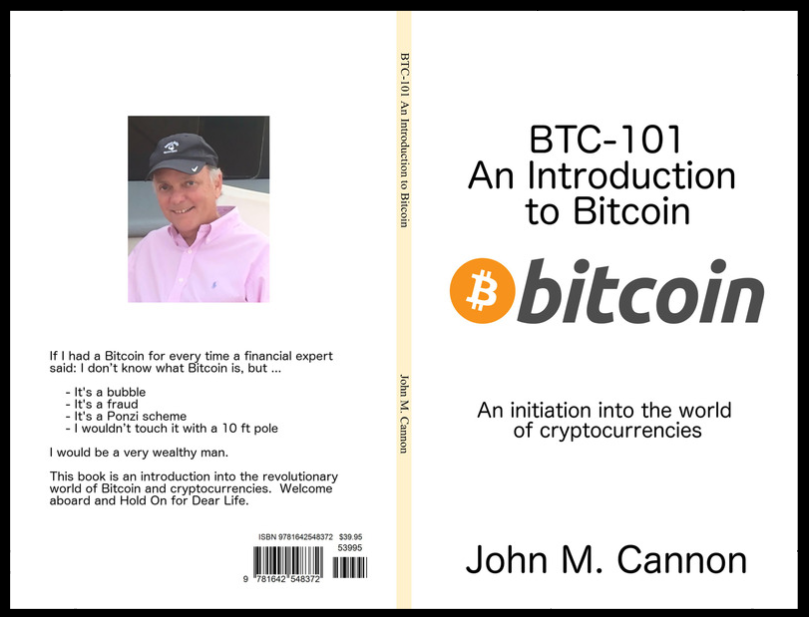 Bitcoin 101: An Educational Book for a Volatile Currency
May 18, 2018
BTC-101 And Introduction to Bitcoin, by John Cannon,elucidates the basic history, foundation, and purpose of Bitcoin in a manner that is manageable for almost all readers, regardless of previous knowledge. Mr. Cannon tends to maintain a positive outlook towards Bitcoin, but shares the information necessary for readers to form their own educated opinion.
John Cannon chose to author this book around the time Bitcoin started its climb in global prominence. He had previously worked for Ericsson and Texas Instruments before becoming Founder and CEO of Symply Health, Inc. He coupled extensive research and prior experience with his "especially skilled [ability] at finding practical solutions" to lay the framework of this educational book. His research is current through the first quarter of 2018, making the book extremely relevant for those looking to start learning about Bitcoin.
The book starts by describing the basic economic principles of money to show how currency has been used for centuries as a medium of trade for goods. Then, it eases into the founding of Bitcoin by the elusive Satoshi Nakamoto. Across the next ten chapters Mr. Cannon discusses the fundamental characteristics that make Bitcoin work. How a coin is "mined" in to existence, thepurchasing properties of Bitcoin, and the services of Bitcoin are all aspects given concise explanations throughout the book. As stated before, Mr. Cannon maintains a positive viewpoint towards Bitcoin; however, he provides several Bitcoin failures and even alternate cryptocurrencies to allow the reader to form their own opinions.
Undoubtedly, BTC-101 is a very to the point rendering of Bitcoin in its current state. Readers unfamiliar with Bitcoin will gain unprecedented knowledge on the topic and readers who are already familiar with Bitcoin will gain a clearer understanding of the convoluted structure of aspects like Block Chain. Overall, Mr. Cannon promotes healthy discussion and education to understand both sides of the coin.
Personally, I am under the impression this book is somewhat of an attempt to profit off of Bitcoin in a non-direct manner. Let me explain, this book is priced at $39.95 which essentially places it out of reach of the common consumer and more towards a lower end text book price. Granted, someone interested in investing in Bitcoin is likely to be able to purchase a book of this price, but a serious Bitcoin investor is more likely to have literature on the topic from a more well versed source. I do not want to take away from Mr. Cannon's research, as it certainly is correct, it simply lacks the experience of someone who has been exposed to cryptocurrencies for several years. That being said, I think this book should either be priced lower or bring more to the table to warrant a forty dollar price tag. It would be the perfect intro to Bitcoin book if it was about ten dollars. If you happen to know someone with a copy, or your local library has a copy, it is certainly worth reading. However, if it were me, a little bit of online research will go a long way to understand Bitcoin and already will bemore current than BTC-101.
One thing this book does not leave out is the importance of cryptocurrency in the future. I concur, some form of cryptocurrency will maintain a trendsetting path for the world. It could be Bitcoin or any other cryptocurrency that holds a revolutionary position in the digital world, but no matter the currency it is crucial to stay on top of this influential and evolving topic.
All the best,
Ben McNabb
Intern KOSBE Spring 2018
Dobyns Bennett High School 18'