Class I Propel Protègès
Cassia's Salon & Spa (Kingsport, Tennessee)
Insight Polymers & Compounding (Kingsport, Tennessee)
Rowan Tree Care (Johnson City, Tennessee)
Masters Touch Salon & Spa (Russellville, Tennessee)
Appalachian Maid Services, LLC (Johnson City, Tennessee)
Fanatics 101 (Johnson City, Tennessee)
Taylor's Martial Arts Academy (Kingsport, Tennessee)
H2O Pruf, LLC (Morristown, Tennessee)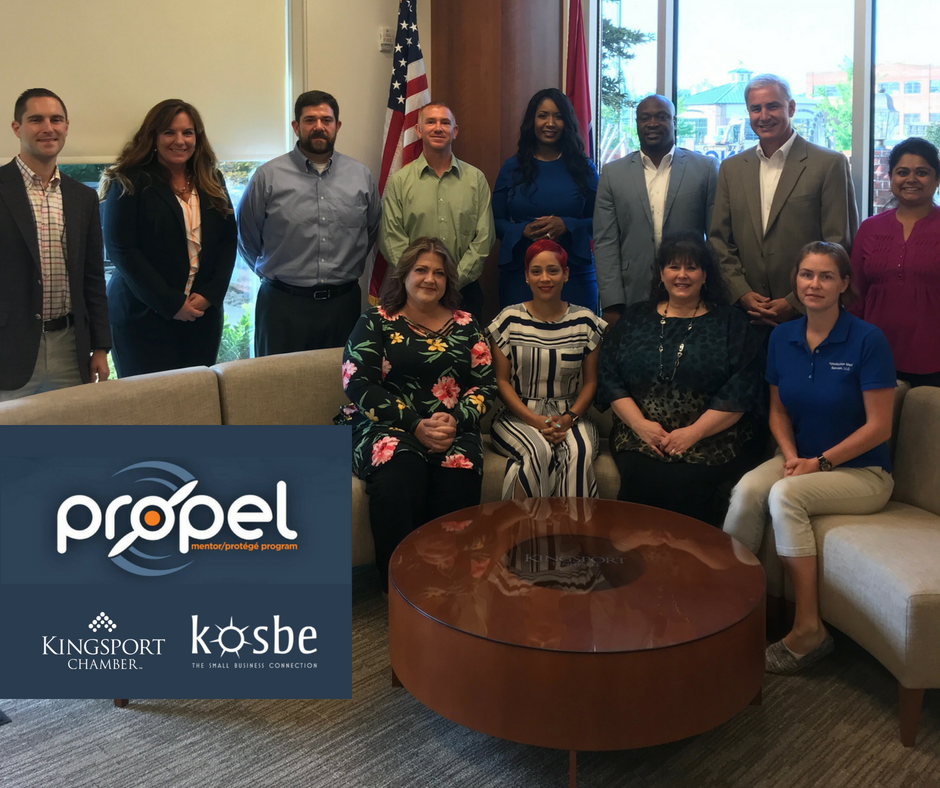 Pictured above, left to right: Sam Booher, Associate Counsel Eastman Credit Union & KOSBE Advisory Council Chairman; Jessica Goodman, H2O Pruf; Anthony Pasquale, Insight Polymers & Compounding; Robert Sheffey, Rowan Tree Care; Aundrea Wilcox, KOSBE Executive Director; Keddrain Bowen, Fanatics 101; City of Kingsport Mayor John Clark; Aditi Bhave, KOSBE Administrative & Project Coordinator; Cristin Yeary, Masters Touch Salon & Spa; Angela Braan, Cassia's Salon & Spa; Twana Taylor, Taylor's Martial Arts Academy; Jenna Tamayo, Appalachian Maid Services.
---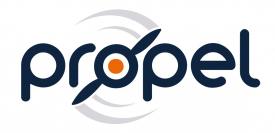 Mentor/Protege Program
PROPEL YOUR SMALL BUSINESS
We know the challenges involved in starting your own business: balancing the books, retaining employees, and getting plugged into the community. When you're ready to take the leap, we're here to help you navigate your way through all of those challenges.
The Propel program is a one-of-its-kind opportunity designed for woman-, veteran-, and minority-owned small businesses and disadvantaged businesses including rural, economic, or social disadvantage. The Propel program provides you with one-on-one assistance to help you grow your business, and teams you up with a mentor (an established community business leader) and exclusive mastermind group. Propel has a track record of success in Tennessee, starting with the Knoxville Chamber in 2008. Since then, the program has graduated 26 total Protege Graduates and has helped start new businesses and drawn an economic impact of over $60 million to the community.
Ideal Candidates
Must be the ultimate decision maker for the business
Be in full operation for three or more years (exceptions can be made if applicant can show applicable business experience)
Be generating annual gross sales of at least $100,000 (if not, a business plan is required prior to attending the first program session)
Agree to provide standard financial documents including balance sheet, income statement, and cash budget and/or business tax returns
Provide three business references that have known you in your current business capacity
Agree to Chamber membership for two years
Articulate clear, measurable goals with the assistance of a mentor
Have a passion and desire to grow the business
Be willing to receive coaching from others
Attend one face-to-face meeting per month with mentor, and one mastermind group meeting per month
How It Works
This is a two-year program for a select, small mastermind group.
There are 10 scholarships available (for 5 urban firms and 5 rural firms) valued at up to $1,000 each per year covering the total cost of the program. This program is funded through a grant from the State of Tennessee's "LIFTTN" initiative in partnership with the Knoxville Chamber's Propel Mentor/Protege Program.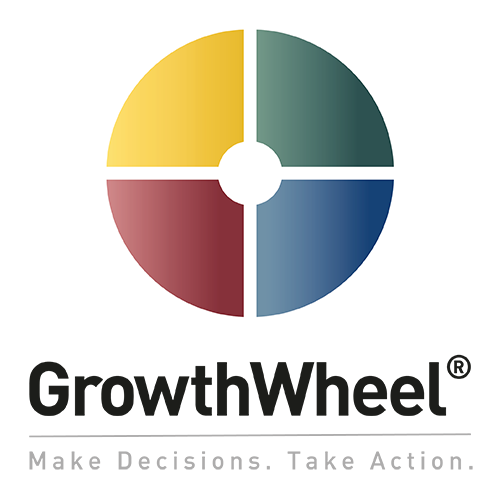 The curriculum will consist of: GrowthWheel Toolbox,
which is sponsored and facilitated by Tennessee Small Business Development Center at East Tennessee State University. Each participant will get a complete kit and work on their own individual action plan and growth plan for their particular business. All participants must attend the first kick-off session, and complete a GrowthWheel® 360° Screening about their business and a personality profile, to help us match them with a mentor. Subsequently, participants complete a boot camp which will meet regularly once a week for four weeks.
After the boot camp, participants will attend an exclusive Propel Mentor/Protege mastermind group at least once a month. Occasionally, there will be a guest speaker presenting on the subject matter that is being covered, and simultaneous webcam conferencing with the Propel cohort in Knoxville. Participants will also be invited to join the private Facebook Group: Propel Proteges with 89 members who are past and present proteges and mentors. Dates will be set in advance, and if you are unable to attend a mastermind group in person, an online mastermind group make-up option will be available to you.
Participants will also be assigned a mentor, from the KOSBE Advisory Council, and required to meet with them once a month, at a time and place that is convenient for both.
2019 KOSBE Advisory Council
Russ Rogers, Honda of Kingport, Current Chair
Wes Argabrite, Bank of Tennessee
Angela Baker, VIP Seen
Chaiba Bloomer, CKB Global Business Consulting, Inc.​
Sam M. Booher, Eastman Credit Union
Tara Burns, Branded
Keith Cunningham, Bagel Exchange
Adam Gray, Workspace Interiors
Mike Holt, Kaplan CFO Solutions
Cassandra Honaker, Millennium Collision Auto Repair
Tori Humphreys, Cumberland Marketing
Ted Fields, Powell Valley National Bank
Dustin Mohr, Martin Dentistry
Aaron Roop, Asbury Place
Ernie Rumsby, Tri-Cities Military Affairs Council
Benefits
Kingsport Chamber membership
Feature article in The Small Business Connection Magazine
Recognition at the annual KOSBE Awards gala
Website promotion listing all Mentor/Protege teams
Propel Protege nametag
Assigned to a Mentor from our KOSBE Advisory Council, made up of experts who have a vast amount of experience both wide and deep in creating an attractive business concept; establishing a strong organization; maintaining profitable operations; and building lasting customer relations
Advising services by Tennessee Small Business Development Center at East Tennessee State University
GrowthWheel® Tool Box sponsored and facilitated by Tennessee Small Business Development Center at East Tennessee State University
Cash Prize
Each year, from the graduating class, one rural company and one urban company will be awarded a $1,000 cash prize for their efforts and results while participating in the program. Participants must attend meetings and sessions 90 percent of the time to be eligible for the cash prize.
To Apply
Applications Closed.